Page speed is important for better user experiences & also for SEO. There are many cache plugins available in the WordPress. But out of them, W3 Total Cache (W3TC) and WP Super Cache are my favorite ones.
The main difference between these two plugins is: Super cache is very easy to use and configure but W3TC has many options.
if you have planned to use CDN, then the W3 Total Cache plugin is a great Plugin.
How To Install W3 Total Cache
Download "W3 Total Cache" from the "Add new plugin" section from the WordPress dashboard.
Note: uninstall other WordPress Cache Plugin or WP Super Cache plugin.
How To Configure W3 Total Cache
Setup options are more advanced in W3 Total Cache than in WP Super Cache. But don't worry! We will show you how set it up, you can review & copy all settings for your own site. its the optimized settings for W3 Total Cache Plugin.
General
After installing and activating W3 Total Cache, go to Performance > General and then enable everything you want to cache.  you can make changes to individual settings and configurations.
When done, click to "Save all settings".
We have made optimized settings, copy these settings, let's try it.
Refer to the image:
Page Cache
By default, all of the essential settings are checked. Review and move on to the next setting.
Minify
All settings in "Minify" are default.
and if you are not using CDN, you have to disable "Automatically upload modified files".
Database Cache
Browser Cache
Extensions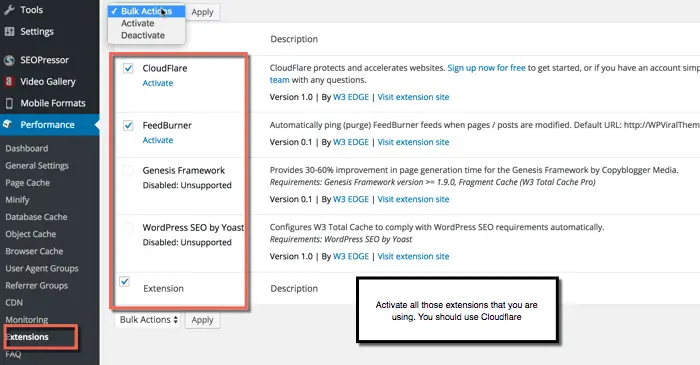 One cool thing about the W3 Total Cache is to support extensions.