System information tools are that software programs gather all important details about your system hardware. This collection of software will help you to solve the problem with your computer.
These system information tools also help you, so you can buy, replace or upgrade your hardware.
Top Free System Information Tools
Here is the list of top free system information tools that you can use.
PC Wizard
What We Like

This software Provides lots of details
Supports exporting and copying results
Allow you to see the summary of every information in one section
What We Don't Like
The Buttons are not labeled, that is confusing
Doesn't work in the Windows 10
During installation, this Setup tries to install other programs
This software slows down often when scanning the computer
Our Review of PC Wizard
PC Wizard 2015 is another system information tool shows a variety of information about pc components.
This software can easily save detail reports of all parts of the hardware. You can easily copy a single line of data to your storage media.
PC Wizard 2015 is certainly the most informative tool out of all system information tools as we used.
This software includes operating system details as well as basic and advanced information of external and internal hardware.
This software can be installed on Windows XP, Vista, 7 and 8 and doesn't properly work on Windows 10.
---
 Speccy
What We Like
Allow you to copy text out of the program
Shows the detailed information for lots of the components
Works as a portable and a regular program
Results can be shared by exported to a file and to the web
What We Don't Like
A specific sections report of information can't be made
Our Review of Speccy
CCleaner, Recuva, Defraggler, and Speccy free system information tool are created by Piriform.
The layout of Speccy's is designed nicely to give all the information you need.
The page summary gives you brief helpful information for the operating systems, graphics, storage devices, and memory. Briefer detailed information is in their respective sections.
If you wanted to export the system specs from Speccy, it can be easily sent to the public webpage or other sharing options. Exporting files, printing or saving lists of your hardware information details very easily.
Speccy fully works with all the versions of Windows from Windows XP through Windows 10.
---
ASTRA32
What We Like
Shows full information about the computer hardware
SIW summarized all categories into one page.
It's portable and can use without installation
What We Don't Like
Some details get truncated
Shows ads to purchase the full program
Can't run in Windows 10
Can't copy text out of the program
All the Functions as demo programs
Our Review of ASTRA32
Here is another free system information tool; the ASTRA32 tool shows detailed information for numerous devices of the hardware and software of the system.
It separates the information about the several categories of the hardware, like storage, motherboard, and monitor information.
The sections of the system summary are best to see the overview of the Operating system and hardware details. There is a separate section in the software where you can see live monitoring of temperature and current usage of different hardware components.
ASTRA32 shows lots of information in its demo program. You can purchase its full version to avail more information about your hardware and software.
ASTRA32 works on Windows XP, Vista, 7, 8, 2000 and Windows Server 2003 and 2008. It can't properly work on Windows 10.
---
System Information for Windows (SIW)
What We Like
It's portable, doesn't need to install
Very easy to read and use
Take up to very low disk space
Shows info that similar programs don't reveal.
Supports copying text from application and report making
What We Don't Like
doesn't make a detailed report
can't run at Windows 8 or Windows 10
Our Review of SIW
SIW is a completely free system information tool and a portable which shows a complete detail on different areas of the windows.
As the regular information about standard hardware, SIW reveals also the details information regarding the installed applications and other areas of Windows.
In SIW everything is separated into 3 sections called hardware, software, and Network with more specific subcategories.
A report summary contains basic software and hardware information can be exported to the HTML files.
SIW is the collection of full details sometimes populate awhile when you open this program first time.
SIW is not compatible with Windows 8 or Windows 10 and works best with Windows XP, 7, Vista and Windows 2000 users.
---
HWiNFO
What We Like
Results are in detail
It supports extensions
Works in the Windows, as DOS program
Also works in portable mode
A one-page summary detail is available
Easy to use
allows you to copy specific detail results
It supports alarms
What We Don't Like
In some similar programs, missing details found.
Our Review of HWiNFO
HWiNFO is a free system information tool shows the details of CPU, Monitor, Audio, Motherboard, Network and other components.
In HWiNFO there is a sensor status window shows the average and current rate/speed of the CPU, Memory, and hard drive. Against these areas, HWiNFO can be run for the benchmark reports can be made for the system components, and there is a sound alarm for automatic reporting when a sensor exceeds their particular threshold.
Unfortunately, HWiNFO can't include details as other application does. but it is very helpful for detail information about hardware and software.
HWiNFO runs from Windows XP to Windows 10 easily.
---
Free PC Audit
What We Like
fully portable with a small download size
Easy to use and read
Allows you to copy the text from a software
Supports making the reports
Includes some amazing features which are not found in other programs
What We Don't Like
Isn't as detailed program as similar tools
Details of some components not included in the detailed reports
Our Review of Free PC Audit
Free PC Audit has some amazing features that you can't find in any system information utility, you can save detailed information for your hardware and software in a simple text file.
You can see information for all your hardware like memory, motherboard, and printers.
Also, you can get Windows Product ID and key, currently running processes and installed software and many more other things with just one software Free PC Audit.
Free PC Audit is a fully portable; you can take it in your flash drive.
Free PC Audit works best in Windows 7,8,10, and also works in the older version.
---
Belarc Advisor
What We Like
Setup file is very small
Runs quickly
Shows very helpful basic details of hardware components
Shows some unique details which are not found in other software
Software detail is shown, too
What We Don't Like
You have to install to your computer
Can't shows a summary page
Our Review of Belarc Advisor
Belarc Advisor can't show information as other free system information tools do. However basic details are shown for the operating system, motherboard, drives, processor, memory, display, bus adapters, users and group policies.
Belarc Advisor has the unique feature to list the security updates that the Windows is missing.
Belarc Advisor shows details about installed hotfixes, software licenses, and program usage frequency.
The results of the detailed information can be viewed on a single web page or in a web browser.
The nice thing is that the Software is quick to download and during setup additional program doesn't try to install.
Belarc Advisor runs on both 32-bit and 64-bit versions of Windows XP, Vist, 7,8,10.
---
EVEREST Home Edition
What We Like
It's a portable software
Shows every detail into several categories
Easier access for your favorite components
Reports can be made
What We Don't Like
Shows not as information about hardware as other similar tools
This software is outdated and no longer gets updated
Our Review of EVEREST Home Edition:
EVEREST Home Edition is a free system information tool. It's portable software. This software has nine categories with one summary page, will scan your hardware and software very quickly.
In summary, all the essential details for hardware are included like network, display, storage devices, and motherboard. You can create an HTML report of every detail.
From the menu bar, you can create favorites to instant access to a specific component of the hardware.
Unfortunately, this program is no longer being developed and this means if this software does not update in the future, then the new hardware devices will not be recognized by this software.
EVEREST Home Edition works in Windows XP, Vista, 7, 8 and Windows 10.
---
MiTeC System Information X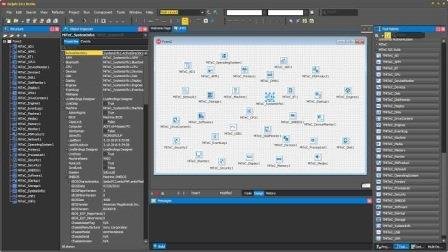 What We Like
Free for business and personal use
It's completely portable
having very brief information of components
The software has the tabbed user interface
Supports making reports and copying the reports
What We Don't Like
Reports don't include details for some hardware details
Our Review of MiTeC System Information X
MiTeC System Information X is easy to use and portable and you can make a whole report summary. It is licensed for commercial and private use.
This software will give you standard details like network, audio and motherboard details. And specific details for processes and drives.
MiTeC System Information X is an amazing system information tool which has a tabbed interface, makes this program very easy to navigate, you can view more than one report at a time.
The software can be used with all versions of Windows from Windows 2000 to Windows 10 and also works with Windows Server 2003 and 2008.
Download MiTeC System Information X
---
ESET SysInspector
What We Like
It's a portable software
Detailed are centered around the security
Can make reports
It's a unique software having lots of features
What We Don't Like
Not built to show many details as other similar tools
Our Review of ESET SysInspector
ESET SysInspector has a well-organized interface and easy to search utility and very simple to use.
ESET SysInspector shows the results in the filter risk level from 1 to 9. In the software, you can search for basic information such as system uptime, available memory and local time. In advanced details includes installed software, event logs, hotfixed, and environment variables.
In ESET SysInspector you can view a list of current network connections and running processes, Disable & active drivers. It also shows system files and important registry entries.
In the list of programs, the ESET SysInspector is best in one part because of providing the information regarding the security of the PC. However, software can't show exhaustive results like other high rated system information tools in this list.
ESET SysInspector supports in 32-bit and 64-bit Windows versions 2000, XP, Vista, 7, 8 and Windows10. Also supports in Windows Server 2003/2008/2012 and Windows Home Server.
---
System Information Viewer (SIV)
What We Like
It's portable software. No need to install
Reports can be mde
A summary page for devices
Shows brief information
Monitoring resource system
What We Don't Like
The software interface is cluttered
Detailed results are hard to read
Searching can't work well
Our Review of SIV
SIV is a portable free system information tool for windows. No needed to install this software.
Shows the details information for hardware like hard drive, adapter, USB and basic OS details.
SIV has a live sensor to show memory utilization and CPU.
The interface of SIV software is too difficult to read and a little bit hard to look at. But you will get your information if you look closely.
SIV supports all versions of Windows from 2000 to Windows 10, also supports an older version like Windows 98 and 95. It also works in Windows Server 2003, 2008 and 2021.