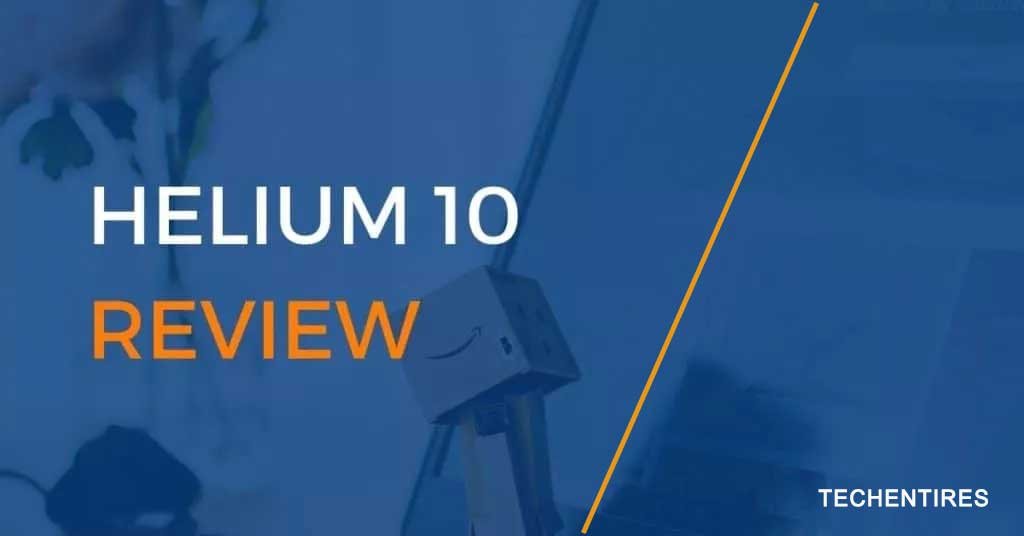 Amazon sellers are likely familiar with Helium 10. It's one of the best tools for running an FBA business, with over 2 million customers. Entrepreneurs praise the software for saving time, increasing profits, and generating relevant keywords. If you want to participate, keep reading! TechEntires is offering a
Helium 10 discount code
to all of its readers. Learn how to
get a 20% discount on your first 6 months
. We'll also go over Helium-10 and why it's such an excellent option for Amazon sellers. One of the best Amazon product research tools is Helium 10.
Click here for 20% OFF 6 Months
Copy and paste the Helium 10 Promo Code "
TECHENTIRES6M20
", Get 20% off your first six months of Helium 10 with this code. Or, if you are interested in the annual subscription, use the Promo Code "
TECHENTIRES10
" to get
10% off
all Helium10 plans every month! Use the promo code at checkout to receive this special discount
.
What is Helium 10 and Why Do I Need It?
It's difficult to believe there isn't a'magic' pill or secret software that will instantly turn you into a 7-figure Amazon seller, but Helium 10 comes close when we speak with some of the best Amazon sellers.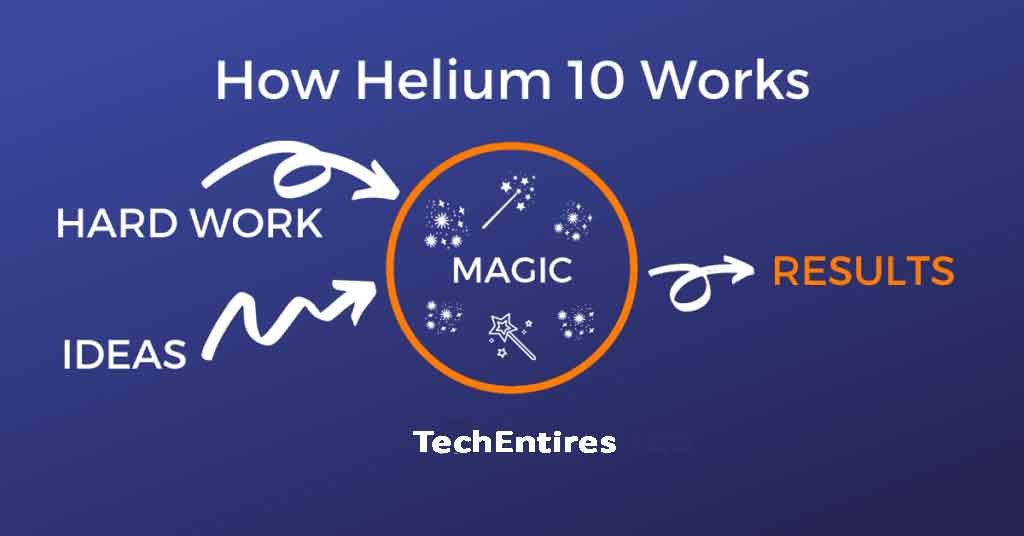 Helium 10 Review of the Key Features:
1. Magnet
A robust keyword research tool will provide you with an instant list of the most valuable keywords for your product pages, saving you time and effort.
Magnet can then select the most relevant and detailed results based on the seed keyword. The Magnet will then display the search volume, magnet IQ score, match type, and ASINs targeted in sponsored and headline search ads based on those keywords as well as the Amazon, organic keywords, and recommended keywords.
Magnet is probably one of the best available today for keyword research tool for Amazon Sellers.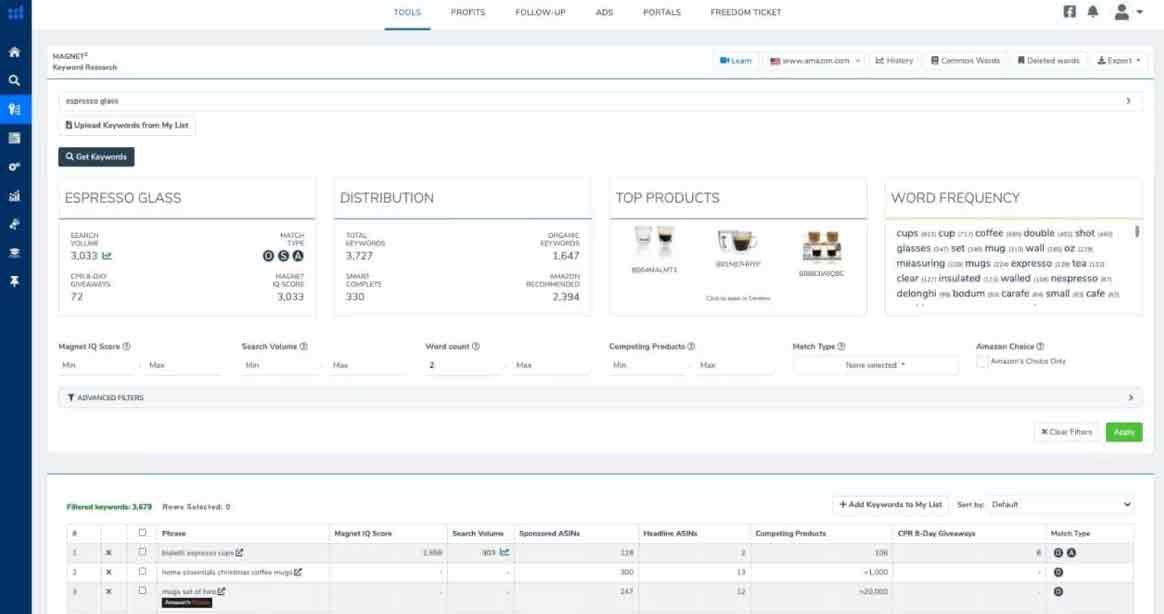 2. Frankenstein
Your listing needs to be optimized or your keywords need to be cleaned up. Frankenstein can combine, filter out, and organize all your keywords into a list of only the most powerful ones you need to find your listing.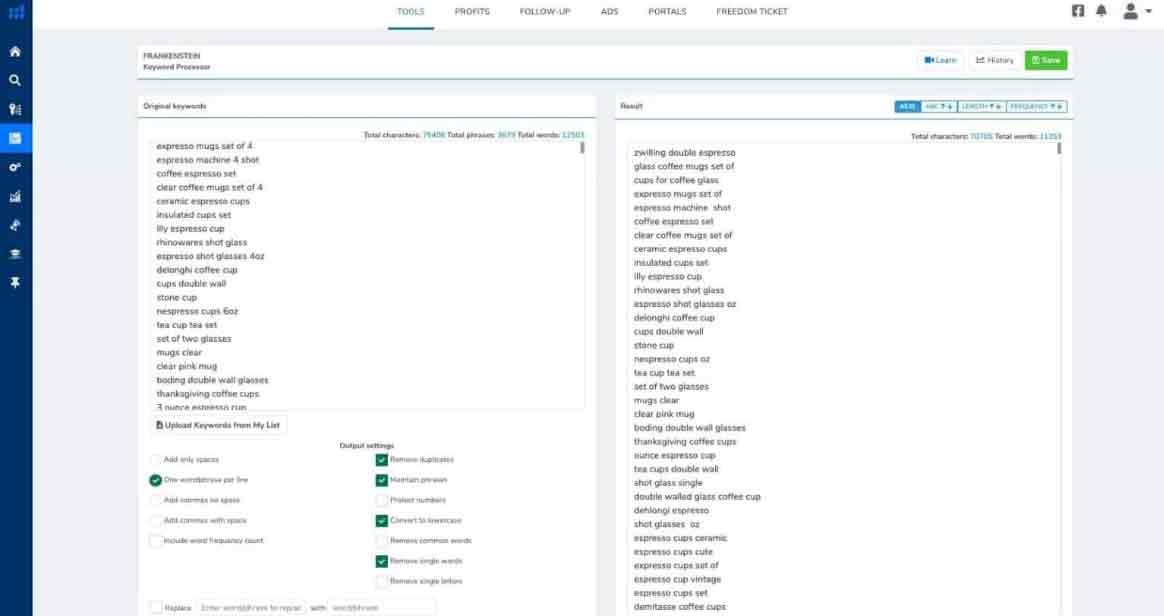 3. Scribbles
Scribbles is one of our favorite tools in Helium 10. The tool helps you determine which keywords are the most profitable and relevant both for the frontend and backend of your listing. Scribbles from Helium10 give you the confidence that no valuable keywords are missed. You can try to include all of these profitable keywords in your listing title, bullet points, and description once you have extracted the list of profitable keywords from Frankenstein.
4. Black Box
It is a challenge for all Amazon sellers to find profitable products that make money. Using Black Box, you can save precious time while doing your product research. You can experience the real benefits of Helium 10 Black Box by trying it out.
Using the Helium10 Chrome Extension will save you time by letting you quickly see estimates of sales, revenue, review count, sales trend, and review rating for any given product.
Review scraping and downloading from competitors' listings can help you find pain points or change your product research accordingly.
5. Follow-Up
Using Helium10 follow up tool makes email automation and customer follow up easy. Some consumers don't make a purchase on their initial visit.
6. Helium10 ADS – Called Adtomic
A PPC campaign manager was a much needed tool from the Helium10 team And Manny Coats. Now, with the addition of Helium 10 ADS PPC manager called Adtomic (Ads + Automatic), it has become an "All in One" tool.
7. Analytics
There are many analytical tools available with Helium 10, including Profits, Keyword Tracking, Market Tracking, and Inventory Management. Analytics tools let Amazon sellers analyze their profits, competitors' keywords, and more. In addition to helping you boost sales, these analytics are invaluable for keyword research, listing optimization, inventory projection forecasts, and more.
8. Helium 10 Chrome Extension called X-ray
Helium 10 Chrome extension X-ray is one of the best time-saving tools for Amazon sellers today. It allows you to quickly and easily validate product ideas.
9. Cerebro
Cerebro by Helium 10 is the best reverse ASIN tool available. Do you want to know what search terms people are using to find products on Amazon? Cerebro can assist you with this, of course. You can enter your ASIN or your competitor's ASIN and the tool will provide hundreds of Cerebro keyword suggestions.
10. Listing Analyzer
Every Amazon FBA seller wants their listings to be as optimized as possible. Here is Helium 10's new program Listing Optimizer. Helium 10's new tool, Listing Optimizer, can help. In just one click, it will analyze and audit your product listing. You can use it to compare yourself with the competition and to see what you need to do to win.
Helium 10 Pricing
Helium 10 offers different pricing plans, including a free version with all the features, which you can test out before upgrading to either the starter plan at $37/mo or the platinum plan for $97/mo (not included in our readers deal, which saves 50% on month one).
The platinum plan is ideal for everyday Amazon FBA sellers. The Diamond plan starts at $197 per month and is designed for Amazon sellers who are looking to scale and grow their business. A top-tier plan, the Elite plan, is for Amazon sellers who want to gain insider tips and tricks beyond the Freedom Ticket course and take their business to the next level and beyond. If you use the refund genie tool, you can find money that would otherwise be left on the table.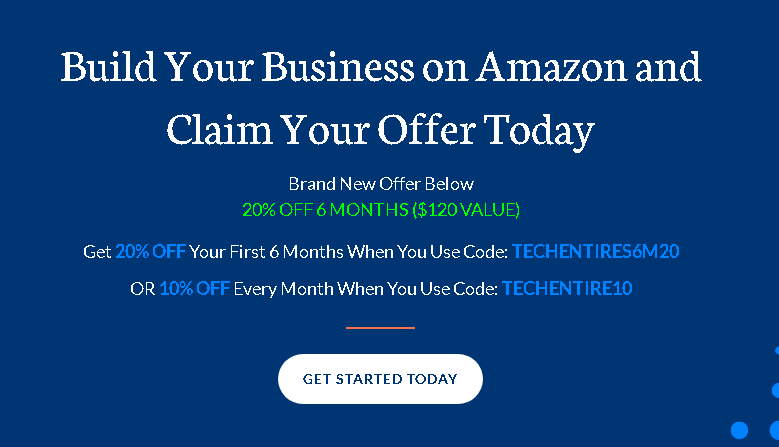 Our Helium10 discount code TECHENTIRES6M20 can save you 20% off your 6 months, and TECHENTIRES10 gives you a 10% discount off ANY plan, including Diamond, Platinum, and Elite. Discount coupons are great, aren't they?
Our Helium 10 Coupon Code Can Save You Money
Are you interested in getting this software? Check out our Helium 10 coupons! Use the promo code TECHENTIRES6M20 at checkout to receive 50% off your first month.
PROS
All-in-One set of Amazon Tools

Freedom Ticket Course available

Best for product research

Reliable and Accurate data

New update – Integration with the Walmart

Training: You will get best training step by step ways of how to use Helium10 tool.

The tool will Save time for Amazon seller tasks by using the Helium10 chrome extension

Super-fast
CONS
Helium 10 has a High Price – But well worth it

PPC is not added in Helium 10 Platinum users (only in Diamond and Elite)
Does Helium 10 Have a Free Plan?
There is a free plan for Helium 10. Get started on the Amazon marketplace by signing up for a free account. Helium 10 discount will save you a lot on month one of Helium 10.
How much is Helium 10 ?
The Helium 10 All in One suite of tools features a free plan for beginners, a Platinum plan for $97 a month, a Diamond Plan for $197 a month, and an Elite Plan for $397 a month.
Among the features are Black box, Trendster, Cerebro, Magnet 2, Frankenstein, Scribbles, Keyword Tracker, Index Checker, Alerts, Profits, Inventory Protector and Xray the new Follow up email automation tool.
When it comes to product research, listing optimization, and campaigns, Helium 10 saves so much time and it's well worth the investment.
Is Helum 10 worth the price?
The tools in Helium 10 are highly accurate , efficient, extremely user-friendly, and most suitable to Amazon FBA sellers. The keyword research, listing optimization, and product research tools alone make Helium 10 worth the cost. Additionally, you'll get a free Amazon FBA course – the freedom ticket!
Helium 10 Offer Get 20% off your 6 month with discount code TECHENTIRES6M20.
Get 10% off all plans with discount code TECHENTIRES10.
Helium 10 discount coupons work on all plans like Platinum, Diamond, and Elite Helium 10 plans.
Get more inventory for less money. Helium 10 Platinum, Do you need a Helium 10 discount coupon code for the Platinum plan?
Get 20% OFF for your 6 month with TECHENTIRES6M20 or 10% OFF for life with TECHENTIRES10. The diamond plan and Elite can also be used
.
Helium 10 10% OFF Every Month
Tech Entires readers can take advantage of a 20% OFF your first 6 months subscription coupon for Helium 10 by using the Helium 10 Coupon Code TECHENTIRES6M20.
How do I use the Helium 10 codes?
Sign in to your Helium 10 account and click on "plan details" once you have created a free account.
The Helium 10 discount code can be found on the plan details page by using the promo code TECHENTIRES6M20 or TECHENTIRES10.
How would you like to manage your FBA business with Helium10? Use our discount code by following these steps:
Visit Helium10's pricing page.

Where it says "Enter coupon code," enter TECHENTIRES6M20.

Then click "Apply."

Choose your plan and click "BUY NOW."
You'll then need to create an account (if you don't have one already) and enter your payment information. You will automatically receive a Helium 10 coupon code for 20% OFF your first six months.
That's it! Your Helium10 subscription will be discounted by 20% for 6 months. Use our coupon code to take advantage of this amazing offer!
Helium 10 Coupon Code 2023
10% Off all plans for life use TECHENTIRES10
20% Off your first 6 months use TECHENTIRES6M20
Use Our Helium 10 Discount Code Today
The most powerful seller tool on the market does not have to cost full price. Take advantage of our Helium 10 discount code today! You'll receive 20% OFF for your first six months. Let's get started!
Our discount will help you save on your subscription, so you can start growing your Amazon FBA business!