With nearly 190 million different items or products for sale on the Amazon Site, finding a winning product that is profitable, sourceable, shippable, and low competition is a major challenge. And if you are searching for the best amazon product research tools to decrease this hurdle, these 3 solutions are for you.
Why use an Amazon Product Research Tools
Product research is the process of gathering details about a potential product for your store, those information determines whether that product will make money if you choose.
If you are wanted to sell products on amazon, these steps are essential in the selling process, but gathering details of the winning product like the product demand, supply, competition, advertising, and the cost is much more time-consuming.
Amazon product research tools make those tasks much quicker, easier, and more accurately providing you extensive details about the product, these tools help you for making better decisions.
The best Amazon Product Research Tools
In eCommerce, there are many Product Research Tools available in the market, but we've narrowed down the 3 Best Product Research Tools for Amazon sellers. Here are they, followed by why we choose those tools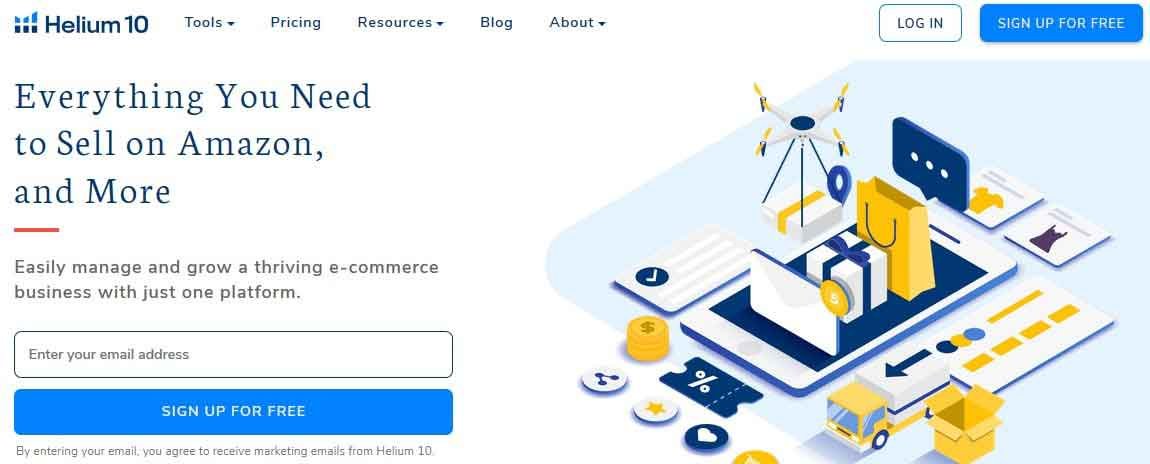 Helium 10 is the One of the Industry's First All-In-One Software for Amazon. Many entrepreneurs praise the software, This tools save time, grows profits, and generate profitable keywords for the users, Helium 10 offers a set of useful tools for Amazon sellers.
What is Helium 10 and Why Do I Need It?
Although, there is not any secret software or magic pill that will turn your business into the 7 figures operation overnight. But with the help of helium 10, you can get those figures and make yourself in top Amazon seller in the business.
Black Box – Product Research Tools: Faster, More Powerful Product Research. Easily find the winning products with their robust 450 million ASIN database, and quickly validate your product's success with at-a-glance analytics like seasonal trends, profit estimates, and more.
Cerebro – keyword research tool. – Find Thousands of Keywords in Seconds. With the help of Cerebro by Helium 10, you can easily evaluate multiple keyword search options, like single-word and reverse ASIN searches, source everything from backend keywords to low-competition phrases, and more. This tool will give you hundreds or thousands of Cerebro keyword research suggestions.
Listing Optimization Tools: – A smart guide leads you through the listing creation process so you write stellar, high-ranking listings every time. Easy-to-use tools allow you to pack your listings with hundreds of keywords.
Operation Tools: Manage Your Business Effortlessly. Alerts, updates, and non-stop monitoring let you know what's happening with your products, seller account, and markets. Plus, built-in security tools keep you a step ahead of malicious threats.
Analytics Tools: Analytics that Power Decision-Making. Create better products, positioning, and competitive strategies with smart metrics. See your profits, market share, competitor ranking, and more displayed in clear, easy-to-read graphs.
Xray – Helium 10 Chrome extension. With the help of this extension, you can easily get details of the product's price, monthly sales, revenue, and much more. It's one of the best time savers for users today.
Other features of Helium 10 include a review downloader, ASIN grabber, reverse ASIN lookup, and an Amazon keyword research tool.
Successes
Helium10 is a high-performing tool, with over 250,000 users worldwide, over 450 million products tracked, 204,500 Chrome extension downloads, and $1.4 billion in monthly sales processed.
Helium 10 Pricing plans:
Free Plan
Platinum Plan: $99/ month
Diamond Plan: $249/ month
Enterprise Plan: custom pricing
If you want to get this amazon research Tool then, you're in luck! TechEntires is offering for its readers a Helium 10 discount code. These are free coupon codes. Use and get a discount.
[button color="primary" size="big" link="https://crushtrk.com/?a=5380&c=188&p=r&s1=" icon="" target="true" nofollow="true"]CLICK HERE FOR 50% OFF TODAY[/button]
Copy/Paste the Helium 10 Coupon Code "TECHENTIRES50" to get 50% OFF for your first month's subscription. And if you are interested to purchase an annual subscription, Enter Discount Code "TECHENTIRES10" to get 10% OFF on All Helium10 plans Every Month! Enter the coupon code at checkout to receive this special discount.
To make the deal the sweeter feel free to use our Helium10 discount coupon code TECHENTIRES50 to save 50% off for the monthly level. And TECHENTIRES10 for the 10% off. Get Helium 10 Coupon Code for all the plans which included Diamond, Platinum, and Elite Plan. And who doesn't love to get an Amazon coupon code.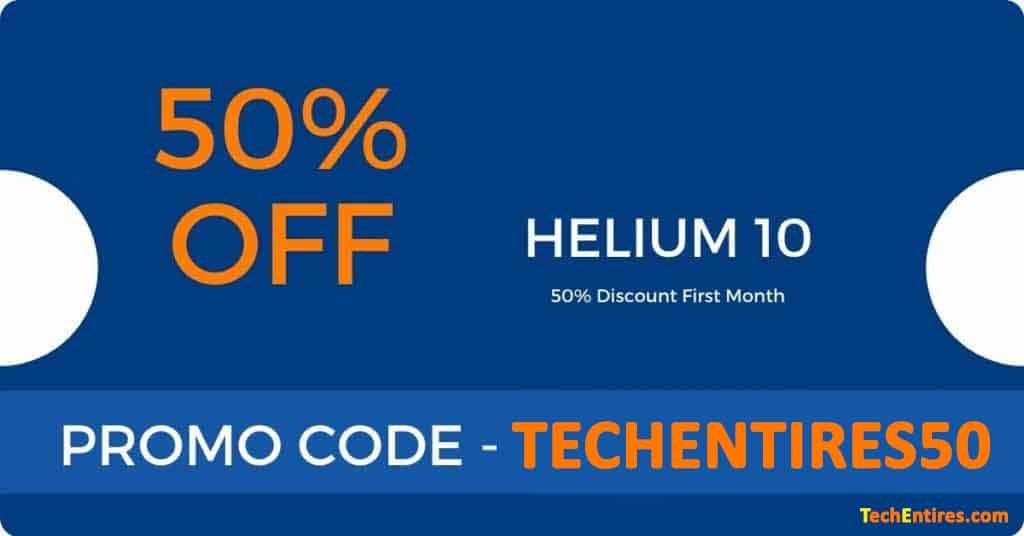 Save by Using Our Helium 10 Coupon Code
You can also use this discount code for amazon for the annual plans and get 3 months discount on Helium 10.
Coupon Code: TECHENTIRES50 = 50% off the first month of Helium 10
Coupon Code: TECHENTIRES10 = 10% off all plans of Helium 10
UPDATED Discount Coupon Codes: January 2022

Find out more about Helium 10 Here.
Use Jungle Scout to make data-driven decisions and build a profitable business on Amazon. Discover what products are in demand, what keywords will boost your sales, how to automate your inventory and review requests, and more.
JungleScout is an all-in-one Amazon product research tool that supports you from that initial idea through to product launch. use Jungle Scout chrome extension on the amazon page to get details for your specific product.
Product Database – The detailed jungle scout product database contains over 80 million products that can be easily filtered to get product ideas in seconds. For example, you can find winning products with Low Competition and good ratings and get the actual profit, and get the product's overall Amazon ranking.
Keyword Scout – Uncover promising opportunities based on high-demand and low-competition keywords that consumers are searching for. Turn a keyword into a market segment, and see in-depth data on sales performance, emerging trends, and competitive insights.
Find products to sell:  Organize, explore, and evaluate product ideas. Sort over 500 million products on Amazon using advanced filters to quickly reveal profitable opportunities with Product Database.
Track product ideas: Save and monitor opportunities by adding them to Product Tracker. Measure the performance of a product or a group of products over time to reduce the risk of seasonality or shifts in the demand cycle. Evaluate sales and trends to validate your next winning product.
Build optimized listings: Craft a successful keyword strategy for your listing to improve its ranking on Amazon. Discover recommended keywords and get an instant rating for your listing with our Listing Optimization Score — which grades product title, description, key features, keywords, images, and more.
Supplier database – Instantly access a world of legitimate, high-quality manufacturers to make your product idea a reality. Validate suppliers by viewing their confirmed shipments and customers and even see what manufacturers your competitors are using.
Once you've selected your winning product. With the help of a supplier database, you can find the international suppliers for eCommerce Products and niches. There you can search by the ASIN, compare quotes and manage, and generate the purchase orders.
Successes
Jungle Scout, amazon Product Hunting Tool has impressive statistics. This tool has tracked more than 175 billion products, supports more than 200,000 entrepreneurs and has helped launch over 200,000 items.
Pricing
JungleScout offers three different pricing and packages structures.
Basic Plan: $29/ month
Suite Plan: $49/ month
Professional Plan: $84/ month
Find out more about JungleScout Here.
Keepa is the modern amazon price tracker that is efficient, easy to use, and elegant. This amazon product hunting tool offers detailed price history graphs, availability alerts, and price drops, they have also keepa chrome extension, they constantly update the database. its the best tool for Amazon
Price History Chart: – Detailed price history charts for over 1900 million amazon products. You can use all their features right on amazon with the help of keepa browser extensions.
Price Drop & Availability Alerts: – Set up a price watch directly from the product page. They track any product for you and notify you once the product dropped below your desired price.
International Amazon Prices: – Compare and track international Amazon prices. Prices for all Amazon locales are listed and can easily be tracked. keepa amazon price tracker is very helpful for the sellers to track prices on Amazon
Daily Deals: – And overview of recent price drops. Get the real deals. Keepa finds the best deals every day. Find products with the highest drop in price in your favorite products category.
Find products matching any criteria by searching their entire product database.
Import and export huge product list to view all prices and product details at glance.
View the best-selling products and merchants by category.
Setup price increase alerts and gets notified once a product reaches your threshold.
Keepa Pricing Plan
Monthly plan: €19/ month
Annual plan: €149/ year
Find out more about Keepa Here.
Closing Thoughts – Best Amazon Product Research Tools
Product research is an essential step in the selling process in any eCommerce business. By using the right top amazon product research tools, you can easily find your winning products and explore the market with lots of potentials. Above listed best amazon product spy tools will help in analyzing products in terms of prices, ratings, reviews, sales, keywords, PPC, to maximize your profits and also help you to avoid underperforming products,
Not every product hunting tool does the same results. And some even do better when used together these tools.
And if you are ready to start building a 6 –figure store, Helium 10 is the only product research tool, you'll ever need. Analyze the products with this tool and you will get your results.
We hope with the help of these 3 best amazon product research tools, you can get enough details and information to discover new amazing things