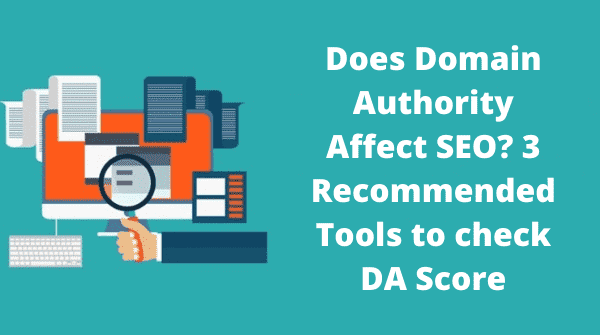 Being a webmaster, you may always be on your toes to improve your website's ranking in SERPs.
You may leave no stone unturned to optimize your website regarding SEO. It is all time necessary to make your website better.
But, besides taking care of SEO ranking factors, you must know your website's DA. Domain authority has become a buzzword nowadays. Let's see if it affects SEO.
In this article, you will also know the tools to check your DA score. So, stay tuned
What is Domain Authority?
It is a popular metric developed by Moz. In layman terms, it is a scale to measure your website's visibility in search engine results.
The score predicts the chances of your website appearing in the search results.
So, it implies that a high DA score means your website is more visible and ranked on top pages. On the flip side, a low domain authority score means less visibility in search engine results.
The score ranges from 0 to 100. However, it is a relative score and you should see it in a competitive environment.
It means you should see your DA score in a vacuum, rather you should compare your score with your competitor in your industry.
Thus, if you get even one point lower score than your competitor, you should improve it. Because it means you have fewer chances of ranking than your competitor.
You may need to know about your website's domain authority because it unveils a lot of information about your business's success.
Does the DA score affects SEO?
If you dig deeper into domain authority, you will get to know that it is based on several important factors that contribute to better SEO.
You may know that Google relies on linking with other sites as a sign to better website credibility.
Its PageRank algorithm is proof that the number of websites linking to your content helps you rank better.
In this way, your website's ranking becomes better. Hence, Domain authority is based on the number of linking domains, so the DA score indirectly relates to your website SEO.
It is a wise way to know your ranking. But you cannot compare it with Google's ranking factors because Google employs a lot of factors to rank your website.
With that said, several studies on the internet show that DA correlates with ranking.
So, you should add it into your SEO strategies as it has much importance for your business.
The need to check DA is greater with new websites coming up daily. Therefore, we bring these three recommended domain authority checkers for you.
1.   Softo.org
This domain authority checker gives you accurate results with just a click. It checks the URL's authority score in no time.
You would love to know that you can check almost 20 websites at a time with this tool. So, it is a bulk domain authority checker.
Sometimes, you deem it necessary to know your competitors' Da score along with yours.  So you can compare the scores and analyze them.
That's why it's a fit tool to find domain authority scores of several websites in one go.
Most people want a tool that does not weigh heavy on their budget routines. No one would like to use a DA checker that costs them a fortune.
So, in that case, you can go blindly for this free-of-cost DA tool. It not only shows you your DA score but also gives your website's spam score and pages in Google.
So, it's a complete package and you should go for it if you are seeking such a versatile tool.
2.   Theseotools:
This is another platform for webmasters and SEO experts who are inquisitive to know how well their website is performing.
First, it is a free tool as it does not cost you anything. You don't even need to pay a single penny. Moreover, you even don't have to register yourself.
All you need to do is visit the website and add the URL to see a slew of stats about it.
You may not know but this tool can give you the option to check the DA of 100 websites at a time. That really sounds great when you want to get large data.
Last but not the least, you will be surprised to find the credentials of your website.
Along with DA, you will get backlinks, Moz rank, Alexa rank, IP address, indexed pages, and much more cool stuff.
To sum up, this tool is worth giving a try at least. It doesn't cost you anything so why not give it a try to know if it is fit for you.
3.   Dapachecker.org
Softo.org brings another fascinating tool for you. Since you are an SEO expert or a webmaster who wants to know his website's ranking performance.
So, you should use a DA PA checker like this to remain connected to your website's ranking.
Being a free tool, it's the choice of most SEO experts because they are always looking for economical yet worth using tools.
You can even check up to 20 websites per query for free. Just add all the URLs on each line and hit the check button.
As far as the versatility of this tool is concerned, you also get page authority score, spam score, Moz rank, and Google indexed pages.
That's why it's a great tool to use if you are looking for something versatile. Download a CSV report of your results after checking.
Final words:
Domain authority is a relevant factor as of today. Almost all webmasters accept that it affects SEO.
That's why they usually use it nowadays to know their website's DA score. The three DA checkers are the recommended ones. Use them and let us know in the comments.