How to Save Photos and Videos from Snapchat in Android Device. Snapchat has probably replaced our conventional camera app and even the filter camera apps.
Nobody thought people would go crazy about posting live photos but with each update, Snapchat got better and the filters available have given people enough confidence to enhance their photos and post them.
There are few restrictions on Snapchat though and people only understand them with experience. Snapchat has basically given its users enough confidence to post their photos without getting their privacy incurred. Whenever you take a screenshot of someone else's videos or photos, the other person will be notified of this action.
So, how to save photos on Snapchat?
How to save our own photos from Snapchat in Android device
Some people even have confusion in saving their own photos. Let's discuss this method in detail first.
Follow the following points.
Launch the Snapchat app.

Click a photo.

Click on the highlighted icon in order to save your clicked photo into the Snapchat cloud feature named memories.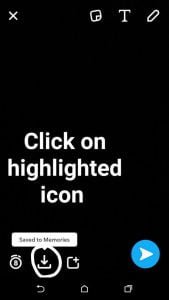 Once your picture is saved into the memories, go to memories and save the photo into the camera roll by dragging the picture upwards.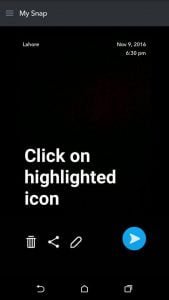 It will open a menu at the top left corner, click on the ellipses menu icon and select "Save to camera roll"
How to save other people's video and pictures from Snapchat
There are many ways to save other people's stories from Snapchat.
Follow the following details in order to save Snapchat stories of your friends.
Use a screen recorder
There are different screen recorders available for iOS and Android. There are many screen recorders available that can be installed and you can save the recording to your phone and view and share it later.
Turn on flight mode
Flight mode is also a great feature if you don't want to get caught.
Turn on flight mode.

Launch Snapchat.

Open people's stories, take a screenshot.

Photos are now saved in your phone.
Use a third-party app
Third-party applications are also a great feature if you don't want to get people to know that you saved their snaps. There are many applications that you can install on your android and ios devices which can help you save other people's Snapchat stories including the videos. Now you can easily view these pictures in your gallery and view them later.
Conclusion
Snapchat is a great app and is highly appreciated by picture lovers. You can just never get enough of this app. It is a great way to share moments with your social circle.
Snapchat is a highly protected app and it doesn't let you save stories of other people but with these highly protected privacy features, there are other apps and hacks which can be used to save other people's photos and videos.
You have to however make sure that you don't violate the privacy of other users and respect their right to protect their data. You can use these hacks to make fun of your friends and enjoy.