Running a home business can be great, you'll be your own boss and have more time to spend with your family, whilst also being able to cut out the annoyingly irksome commuting times. However, with a home business comes various issues that you wouldn't necessarily have to think about if you worked for a standard kind of company. If you're serious about your home business you need to give the issues a thought. These issues can be mitigated with the use of smart technology, to give you peace of mind and to enable your business to run without a hitch. Run A Home Business
Protect Your Home
Think about the security the usual business premises employ? Well, your home is now your business premises. You may use it to store things, in a semi-warehouse capacity. Whatever the reason, you should protect your home and your business interests alike with a top range alarm system, you need to make sure everything is safe when you are not there, so consider finding alarm systems which support home security apps on android or indeed all smartphone devices. This way if anything goes wrong you can get back to your home straight away. You're not just protecting your home, you're protecting your way of life and income. Using the best tech to ensure the continuity of your business operation is a smart bet if top businesses use it then so should you?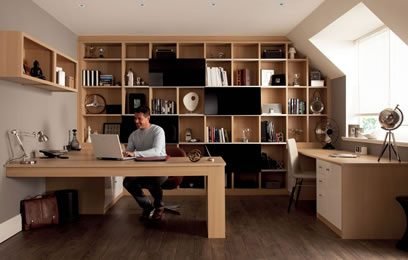 Ensure Your PC Stays Secure
In this day and age, your PC is susceptible to all kinds of dangerous threats, so you need to use the best technology available to defend it. This means anti-virus software. But not any home style software, pro-business software. Imagine your computer went down and you lost all of your key client data or a project you had spent weeks working on? It can happen with such ease, people suffer every day from malicious viruses, malware, etc. You should do your best to protect yourself from these issues, using the correct software is a start, but you need to know how to surf the web in a way that doesn't attract viruses. This means adhering to various tips such as not opening attachments from unknown email senders.
Protect Your Home Office Environment
You need to keep your office area separate from the rest of the house. Your areas for relaxation need to be completely different otherwise you won't be able to work properly as you'll associate it with leisure. If you have children, then you really need to use a lock on the office door. Otherwise, a curious child can easily damage your computer by physically damaging it or simply messing up your work area and costing you time. However, a key can be quite annoying, and easily lost. To install a fingerprint scanner to allow you, and only you, access to your office. This will also waylay thieves if they manage to get into your home for any reason. It will give you an additional layer of security that can save you from family mistakes and thievery attempts.